Press




October 26, 2018 - Bushwick Daily


Kiss & Tell Techno Speed Dating:
Where Nightlife Loving Singles Get To Mingle
Cheap drinks, electronic music and other singles to get to know.

By Olivia Perry, originally in Bushwick Daily Listen up, singles of Bushwick!
Stop swiping and put your phones down because Kiss & Tell: Techno Speed Dating has landed. If my social circle is any indication, the words 'Techno Speed Dating' sound like a nightmare scenario to half of you and the other half practically moved to Brooklyn for events like this. I needed to see for myself what Techno Speed Dating was about, so on Thursday October 18 I put on my party earrings and showed up at Bossa Nova Civic Club at 8 p.m. for the second event to date.
A crowd of about 40 people was mingling around the bar when I walked in, a positive sign relative to the interrogation-like table and chairs set up that comes to mind at the thought of speed dating.
Seze Devres, the organizer and host of TSD, found me by the bar as I was ordering a very reasonably priced $4 whisky (they know their audience). Devres has a mane of fuschia hair, a warm smile and personality to match. The event cover is $9 and as the host, she makes sure to check everyone in personally, asking guests whether they're seeking men, women, or both, and printing their preference in the corner of their name tag.
Techno Speed Dating is new territory for the native New Yorker, but as a photographer by trade and creator of Brooklyn's Kiss & Tell parties, which she's been running since 2005, Devres is a vet of the Brooklyn nightlife and electronic scene. During her 10-year relationship with Bryan Kasenic, co-founder of The Bunker, she assumed the role of official party host of the venue. The two parted ways almost three years ago, and since stepping back into the single life, she's found herself feeling like many of us have – thoroughly unimpressed with the dating landscape and swipe-to-play culture.
She got the idea for TSD after hosting Kiss & Tell: First Date where guests had to bring a first date or new friend to the party (one of her many themes from over the years).
"I prefer to meet people in person. I feel like we've been interacting one-on-one and courting one-on-one since the beginning of time and I just feel like these dating apps are not a healthy way to interact with people or to look for a potential mate," she said. "It's a really impersonal way to interact with people that you don't even know. I wanted to change that and make a safe space for people that are single to interact and be in a bar where you can literally walk up to anyone and it's okay."
In the tight space around the Bossa bar, standing near shoulder-to-shoulder with the participating crowd made scouting out the next conversation challenging at times, but it also negated any awkwardness of having to approach someone from across the room. Every five minutes the co-host sounds a gong, signifying the end of the current conversation and time to scope out your next date.
Over the six or seven dates I went on throughout the night, the one piece of feedback that kept resurfacing was people's surprise at the lack of techno. Devres agrees that the soundtrack (spun by DJ SPRKLBB) doesn't necessarily stick to the genre.
"I told him to pretend like it's wedding cocktail music," she joked and admitted that calling it Techno Speed Dating was a bit of a tongue-in-cheek move on her part.
"I just want to get all our friends together who are interested in more obscure music, because it can be hard to meet people with similar music taste, I found. I was using [techno] as a way to encompass the "community of people that are interested in dance music," she said. 
Though techno wasn't necessarily playing during the dating part of the event, it kicked in almost as soon as the after party started.
As a total techno novice myself (I'm more of a dub and grime kind of girl), I didn't have a lot to contribute to the techno dialogue, but that didn't inhibit any of the lovely conversations I had throughout the night. The crowd was mostly Brooklyn-based with Harlem, the Upper West Side, and New Jersey representation, along with one legendary Irishman who rolled up on his solo vacation to NYC.
By the time speed dating wrapped up at 10pm, over 60 people had participated throughout the night. Devres noted that there were more straight women at the second event versus more queer and straight men at the first.
"I guess that's the luck of the draw," she said. While she acknowledges that it might one day make sense to separate future TSD parties based on sexual preference (she's hoping to draw more of a queer crowd to forthcoming events), she plans on keeping them mixed for the time being.
I didn't meet the love of my life at this month's TSD, but I did get a kick out it of it. If you're single and into electronic music, take a chance at the next event at Bossa Nova on November 15th. Don't let a squad of relationship-bound friends stop you either - I was one of many to make an appearance by myself and Devres is there to have your back.
"I just want people to come. I know it's very intimidating to go out and do something like this. I just want people to feel comfortable and know that everyone is in the same boat. That's what makes it really special; we're all there, we're all single, we're all taking a chance and meeting strangers and that can be really intimidating but I try to create a comfortable atmosphere," she said.
Photos courtesy of Seze
April, 2011


Q+A | Seze Devres, creator of the Kiss and Tell party By Bianca Von Baum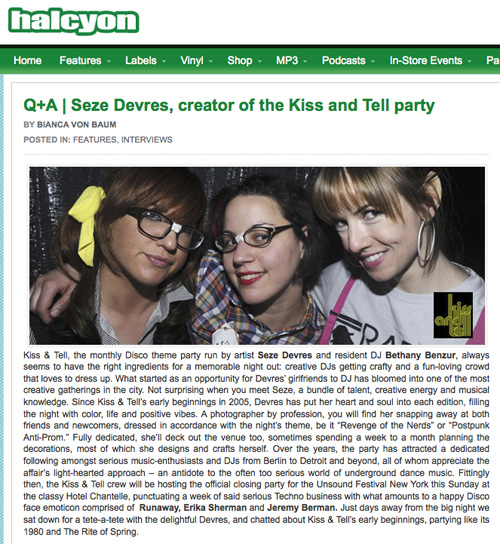 March 16, 2011


METROMIX NYC: 20+ things to do in NYC this week
Resident Kiss and Tell-er Bethany will be spinning her usual bash/mash driven by anything electronic—from italo to disco, new wave to post punk, if it bleeps it's in. This time around, things are themed around "the first time"—as in a first date, the first time you admitted to someone a crush—anything that involved a big step. Why you ask? The reason being, it seems this party, a long-time resident of Rose Live Music, has made a shift to a new location: Hotel Chantelle. However, the sexified attitude will be coming along for the move, so get dressed in your naughty best and come dance with Beth while sipping on $4 brews and the danceable music mastery of The Neurotic Drum Band to boot. Doors pop at 8 p.m. for no cover.
March, 2011


February 22, 2011




Kiss & Tell dance flor mentioned in NBC's site The Feast.
February 2011



K&T Resident Bethany is Athlete of the Month at Crossfit South Brooklyn


January 20, 2011


We convinced Matthew Dear to play a special set just for us. View the Kiss & Tell January party gallery HERE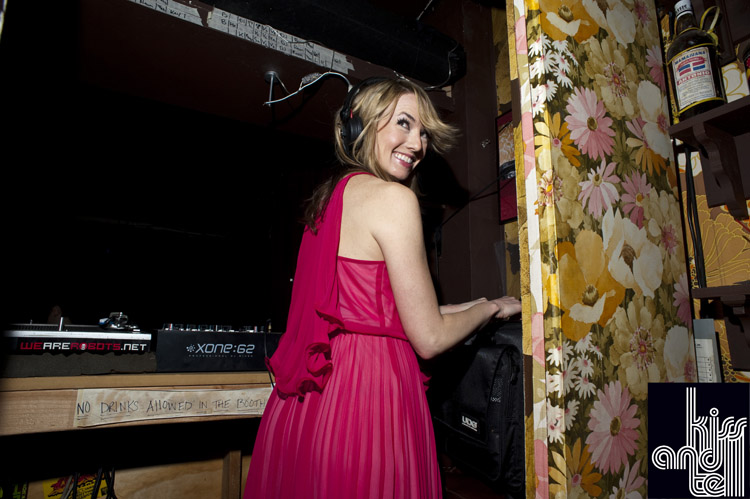 Resident DJ Bethany at Kiss & Tell January 19, 2011 Brooklyn NY

December, 2010



Kiss & Tell posters magically appear in London.
February 2010
2010 Unsound FestivalClosing Party Review on Halcyon Online


Unsound Festival New York ended fittingly enough on Valentine's Day with a heartfelt celebration at Rose Bar in Williamsburg where the official closing event was hosted at the always convivial Kiss and Tell party. The brainchild of Bunker hostess and photographer Seze Devres, Kiss and Tell – a favorite under-the-radar destination of the city's techno cognoscenti – is typically a low-key affair where superstar DJs play unpublicized theme sets comprised of anything but the usual 4/4 fodder. With so many talented DJs circling around Unsound, and only one, NYC favorite Mike Servito, listed on the bill, rumors of 'special surprise guests' hung thickly in the air. So, it was no surprise really when we walked in to find Berlin's Barbara Preisinger dropping deep disco beats for a very lively crowd. Soon enough we sussed out that the honor of closing the night, and thus the festival, had been bestowed upon none other than Mike Huckaby, one of Techno's hardest working players, and a perennial favorite DJ's Dee-Jay. At the good news, we raised our glasses to the Krakow, Poland-based Unsound Team, Detroit native son Mike Huckaby, Ms. Devres of Brooklyn and, of course, America's founding fathers; for these seemingly odd bedfellows were the co-conspirators ensuring that we would be partying all night with our Unsound friends both old and new… and sleeping all day!
For certain, Unsound Festival New York succeeded in bridging the divide between the oft-fragmented communities that span the electronic musical realm. We were left feeling enlightened and stimulated from the exposure to the array of music, art and talent under the umbrella of this contemporary musical movement. After Ten days, though, even team halcyon's last lady standing couldn't keep up with the energetic crowd at the Kiss and Tell closing party. She found herself resting her tired feet in the corner next to Bunker organizer, DJ Spinoza who was himself dozing away, finally having succumbed to exhaustion at the culmination of months of work. Kudos to our man as he was arguably the lynchpin that connected the Polish Unsound team to the variety of local collaborators, halcyon included, that helped bring Unsound Festival New York to fruition.
www.halcyonline.com
February 2010

Press quotes we love!


NEW YORK TIMES (July 9, 2009)
"Kiss & Tell, a monthly party at Rose Live Music in Williamsburg, Brooklyn, does $5 vegetarian pasta dinners and theme nights: Warhol Factory, Revenge of the Nerds and, up next, polka dots." - By MELENA RYZIK

METROMIX (June, 2010)
"Resident Kiss and Tell-er Bethany will be spinning her usual bash/mash driven by anything electronic—from italo to disco, new wave to post punk, if it bleeps it's in. This time around, things are themed around the secret discothèques of Moscow circa the 80s—and honestly, if you know the dress style for that—you...'re good (we're thinking: festive, funky and ushankas maybe?) Meanwhile, feel free to take breaks to munch on a $5 vegetarian pasta dinner, along with $5 rum & cokes all night with no cover to join the fray."

DECIDER NY (MAY 2009)
"Kiss & Tell is a DJ party hosted by Seze Devres, part of the team that throws techno parties under the names "The Bunker" and "House & Home." The mood isn't necessarily techno, though a certain danceability is always in play. And each party has a theme. This one will be pretty techno, as it turns out, thanks to headlining DJ Kevin McHugh, who makes music under the name Ambivalent for Ritchie Hawtin's label Minus."

VILLAGE VOICE (April 23, 2009)
'Kiss & Tell Presents Revenge of the Nerds 'The ladies have moved from Williamsburg's Rose Bar to a bigger venue, housed in a former doll and chocolate factory in Greenpoint, but their monthly party is still drawing the dance DJs. Fischerspooner DJ Lauren Flax offers an eclectic, poppy set and celebrates her recent debut, You've Changed. Moodgadget and Ghostly International's Jakub Alexander joins her. Expect both Michiganders to veer more towards the accessible and 80s than to Detroit classics. With Bethany and Seze." -- BY KRISTAL HAWKINS

Kiss & Tell in FLAVORPILL:
"Techno-scene stalwarts Seze and Deanna created the laidback Kiss &; Tell monthly party with genre-addled minds. Techno cognoscenti meet on the dance floor with former high-school goths and closet knitting-circle members, while standup comedians and performance artists take the stage between DJs." – Kendra Borowski, Flavorpill
Kiss & Tell in TIME OUT:
"Seze Devres, resident DJ Bethany and their pals are back at their ancestral home to spill the secrets of electro, disco, exotica, synth material, industrial and more."