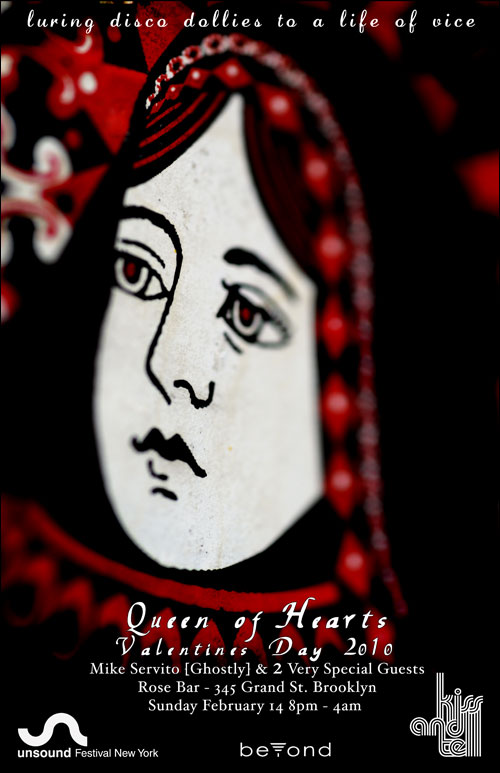 Wine & Dine
Rose Happy Hour 8-9pm:
two for one beer and wine
All night long:
$5 rum & coke
$5 vegetarian pasta dinner

Rose Bar
345 Grand St Brooklyn, NYC
(Between Marcy and Havemeyer)
Directions: L train to Bedford or Lorimer; G to Metropolitan
Facebook Group Page home

Official Unsound Festival New York Closing Party at Kiss & Tell
Queen of Hearts
Sunday February 14
8pm - 4am FREE

Mike Servito (Ghostly)
and 2 Special Secret Guests
Seze - Hostess & Photography
Deanna - Hostess
Beyond Booking - Sound & Promotion

Kiss & Tell, a monthly party at Rose Live Music in Williamsburg, Brooklyn, has been producing unique theme based events for over four years. Each month Kiss & Tell invites well known electronic music DJs eager to play a different kind of set, filled with music outside of the genres they are known for. For The Official Closing Party of Unsound Festival, the ladies of Kiss & Tell will be hosting a decadent Valentines Day party. Rose Live Music, a gorgeous venue with red velvet drapes and floral wallpaper, will be decorated in a sea of hearts and playing cards. This classic aesthetic is an homage to The Queen of Hearts, a wild character (based on Queen Victoria) from Lewis Carroll's "Alice's Adventures in Wonderland".
Mike Servito, one of the most beloved Kiss & Tell DJs, has been invited to play his favorite records. Hailing from Detroit, and represented by Ghostly International, Servito has mastered the art of mixing the most eclectic dance music genres together without missing a beat. He can stitch together electro, disco, italo, electro, house, and killer party jams, leaving the crowd in total bliss. Inspired by Detroit radio of the '80s and the city's local DJs in the '90s, Servito came of age in a flourishing electronic music scene, making his debut in 1995 and immediately gaining the attention and respect of his peers and local techno heroes. Along with his rare yet infectious gems, he promises to play the sweetest love songs, because it is Valentine's Day after all. Bring a date or close friend and dance the night away in a house of cards.
For this celebratory event guests are invited to dress up in festive outfits of red, black, and white, like kings and queens, or in stripes and hearts. And don't forget to look your best for the kissing photo booth.
Come help us close Unsound Festival New York with a warm, intimate, and undoubtedly entertaining event. Be prepared for an unforgettable night of dining, dancing and decadence. Sensuous scarlet cocktails and pasta specials will be available all night.
In addition to Mike Servito, two very special secret guests have been added to the bill. You have to wait until February 14 to find out who they are, or else it will be "Off with their heads!"

Kiss & Tell Guest DJ: Mike Servito is a DJ's DJ — a lifelong music fanatic with a truly unique ability to move a dance floor. Fearless in his seamless transitions from one style to another, Servito has an unpredictability and a deep trust in his music knowledge that has garnered him a cult following and made him an in-demand DJ the world over. Although Servito is a NYC transplant, his DJ style is unmistakably Detroit. Inspired by Detroit radio of the '80s and the city's local DJs in the '90s, Servito came of age in a flourishing electronic music scene, making his debut in 1995 and immediately gaining the attention and respect of his peers and local techno heroes. After a brief hiatus, Servito was lured back into the game through the vigorous encouragement of his close friend Magda, and returned to the DJ realm in 2002. Servito redefined himself, finding inspiration in the new generation of electronic-music producers and DJs. Mike Servito was among the original UNTITLED residents, whose ranks include Matthew Dear, Derek Plaslaiko, Tadd Mullinix, and Ryan Elliott. He has played multiple Detroit Electronic Music Festivals and has held court with some of the best talent in the world, including artists from heavyweight labels such as Bpitch Control, Perlon, Minus, Kompakt, and DFA, as well as hometown legends Transmat, Planet E, UR, and Spectral Sound.

Kiss & Tell Resident DJ: Bethany Benzur
Bethany Benzur is our resident disco encyclopedia and vinyl purist from Georgia. Recently emigrating to the Big Apple, Bethany has been ruling the dancefloor at Kiss & Tell parties with her Southern charm. The DJ nerds are regularly awed by her selections, and she joins us each month to warm you up with her mix of raunchy electro, glamorous dark disco, and soulful street funk. She is sometimes joined behind the decks by her husband (and italo disco nerd) Gabe.

Kiss & Tell Hostess, Photographer, Designer: Seze Devres started Kiss & Tell as an extention of her raunchy knitting circle at Trash Bar in Williamsburg on December 7, 2005. At first only a few people showed up to her new party. However wiith a lot of help, support, and encouragement from her friends the party has become its own little beast. When she is is not dreaming up crazy themes and guests for Kiss & Tell she is a full time artist, photographer, designer and curator.

www.seze.net
www.sdphotography.net

Kiss & Tell Hostess: Deanna Asta met Seze, her fellow lady of the nightlife, a few years ago at The Bunker and they bonded instantly. Seze asked Deanna to help co-host Kiss & Tell once it moved to Rose Bar and she happily obliged. Deanna always shows up to Kiss & Tell with a bag full of tricks. She is our decorating goddess and makes sure everyone at the party is looking great and having a good time. She somehow convinced every guest to wear fake moustaches at the French pop party, and she dragged a vintage Nordic Track machine to the aerobics party! She holds a degree in design and over the years she has art directed/managed many design events and parties in NYC through her previous employment with Core77.com. When she's not enjoying the nightlife she's busy earning her second degree in Psychiatric Nursing.


Special thanks to Beyond Booking for support and promotion.