Kiss & Tell Guest DJ: Nick Chacona
NY's Nick Chacona began producing in 1999 under the Version Eternal moniker for NY label Homestyle Cooking. In 2003, Nick released his tour de force in "Band Practice," the b-side to his mysterious promo-only "Pool Party" project. Initially the release was under the radar but within a year, "Band Practice" was a frequent tune in the sets of DJs from Harvey, Rub & Tug, and Prins Thomas, and whatever copies that were left sold out swiftly, turning the record into a much sought after collector's piece. Since that time Nick has gone on to release tracks on renowned labels Moodmusic, 2020 Vision, Ben Watt's Buzzin Fly, Saw, Dogtown, Bearfunk, and the inaugural release for Prins Thomas's Internasjonal. Nick is a partner in the Hector Works imprint that was founded by Anthony Mansfield (Barfly, Rong Records) that has released a number of collaborations between the two and reissued both "Pool Party" and "Brand Practice" as proper singles. He has recently finished remixes for Tiny Sticks, Gomma, Still Music's Past Due, Ransom Note, Eighttrack, and is in the throws of finishing up his first full Length release for Sasse's Moodmusic.

He began spinning over 15 years ago, strictly playing reggae but shortly thereafter fell in love with house & disco. Never one to let the crowd down, Nick's sets are filled with energy, finesse, and diversity flowing from nu disco, house, techno, italo and classics—whatever is required in the moment. He has played across the US from NY to San Francisco, as well as Brazil, Germany, Spain, Poland, Romania, Belgium, Sweden, Serbia, Holland, and the UK.
Kiss & Tell Resident DJ: Bethany Benzur
Bethany Benzur is our resident disco encyclopedia and vinyl purist from Georgia. Recently emigrating to the Big Apple, Bethany has been ruling the dancefloor at Kiss & Tell parties with her Southern charm. The DJ nerds are regularly awed by her selections, and she joins us each month to warm you up with her mix of raunchy electro, glamorous dark disco, and soulful street funk. She is sometimes joined behind the decks by her husband (and italo disco nerd) Gabe.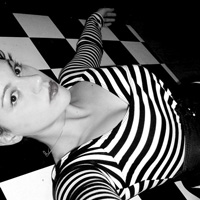 Kiss & Tell Hostess, Photographer, Designer: Seze Devres
Seze Devres started Kiss & Tell as an extention of her raunchy knitting circle at Trash Bar in Williamsburg on December 7, 2005. At first only a few people showed up to her new party. However wiith a lot of help, support, and encouragement from her friends the party has become its own little beast. When she is is not dreaming up crazy themes and guests for Kiss & Tell she is a full time artist, photographer, designer and curator.
www.seze.net
www.sdphotography.net
Kiss & Tell Hostess: Deanna Asta
Deanna Asta met Seze, her fellow lady of the nightlife, a few years ago at The Bunker and they bonded instantly. Seze asked Deanna to help co-host Kiss & Tell once it moved to Rose Bar and she happily obliged. Deanna always shows up to Kiss & Tell with a bag full of tricks. She is our decorating goddess and makes sure everyone at the party is looking great and having a good time. She somehow convinced every guest to wear fake moustaches at the French pop party, and she dragged a vintage Nordic Track machine to the aerobics party! She holds a degree in design and over the years she has art directed/managed many design events and parties in NYC through her previous employment with Core77.com. When she's not enjoying the nightlife she's busy earning her second degree in Psychiatric Nursing.